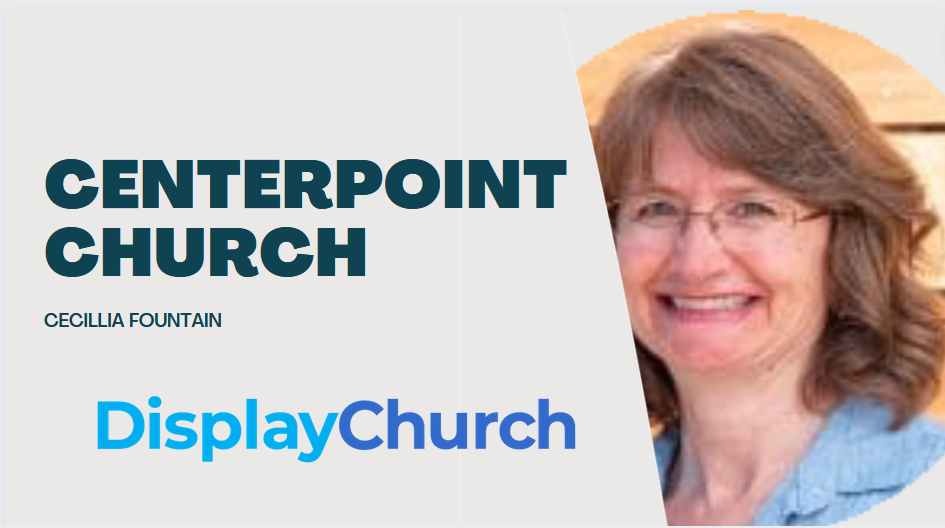 Cecillia's review in summary: Display.Church is a versatile resource for websites, easily added via code or drag-and-drop. Customization options and integration with CCB events make it even more useful. Jason Alexis offers excellent support.
Cecillia Fountain of Centerpoint Church reached out to us with an unsolicited review of Display.Church.
Before using Display.Church
Cecillia shared:
"We didn't have a great solution prior to Display.Church. We manually updated our website with larger events that had registration forms. [The] bad part of that was that old info remained on the website if we forgot to take it down. We dabbled with another platform, but that was still a tedious manual process to keep the calendars updated – copying and pasting from CCB."
After using Display.Church
Here is Cecillia's review:
"I can vouch for Display.Church as a great resource for your website. It should work on most websites because you just copy and paste a code. If you are using a drag and drop website builder, you can drag an html code box onto your page and paste in the code and there you go. If you have a WordPress website, it would work too.
The backend is fairly simple to understand. You can customize content by filtering by group(s) and you can create calendars or event lists depending on your need. You can also customize all the colors. One thing I really like is that any connected forms to your CCB events are actionable within the calendar. So, you do not need to keep updating the website with links to registration forms.
Oh, and Jason Alexis is wonderful to work with. All of my questions were answered in a timely manner.
You can view our site as an example. Our mycenterpoint.tv/calendar page has the entire church calendar. All of the pages under the Connect menu have event lists at the bottom filtered to only include events in certain groups.
NOTE: This is not a paid endorsement, I just wanted to share a valuable resource to the group and also support Jason because he's a great guy with a great product.
NOTE: We don't usually include pictures in our events – but we do have at least one. Our Home School Park Day has a photo on the mycenterpoint.tv/cp-kids page (scroll to the bottom of the page). Now that we have Display.Church, we will probably start using more photos 🙂
NOTE: Display.Church uses EventOn with built-in CCB integration – https://ccb.events/#faqs look under the set-up fee area.
NOTE: You can choose to turn the RSVP function on or off. We have it off for the reasons you mentioned about needing to log in. You can also turn forms on or off. We selected On. You can also connect multiple forms to one event in CCB and Display.Church will display both – game changer. You can view this on our Women's Retreat event https://sync.ccb.events/c/kmWQWrFu This event will expire after April 19,2020."
More joy from the Centerpoint congregation
Cecillia also shared a message she had received from a ministry member expressing her feelings about CCB.events.
Shout Out from our congregation
Hi Jason,
First of all, thank you for creating Display.Church. It filled the need we had to keep our website updated and accurate, and it saves time and resources on the admin side of things. But even more, our congregation seems to like it too. Here is an email I received yesterday from a devoted volunteer.
Subject: kudos for website
Our website is the BEST it's ever been! User friendly… easy to navigate… a beginner techie could follow it. Love the calendar updates and easy access. Keep up the great work. I'm actually telling people to "check it out"… very impressive. 😁
Blessings,
Dorenda
Interested in experiencing how Display.Church can work for your website and your church?