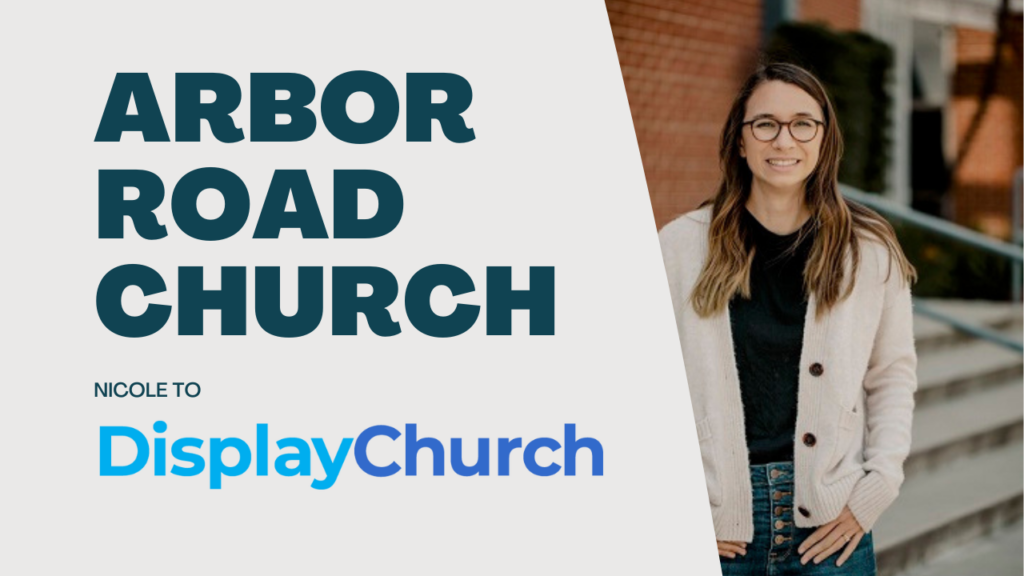 Nicole and Arbor Church needed an easier way to update their calendar. After exploring a few solutions, they chose Display.Church for its features: sign up forms that can be pulled directly from CCB calendars, the ability to customize branding and colors, and "set it and forget it" data management capabilities that save time. The Versatility feature also allows them to list events in four tabs using D.C filtering options.
Do your important public church events stand out or do they get lost in the shuffle?

What about ministry events? Can those who want to attend find when & where easily?

And if you are a multi-location/multicampus church, could you have separate calendars for each campus?

What about forms…can your current process include links, so your people can sign up easily?
Lastly, do you have lots of options when customizing your calendar or events list to reflect your church branding and culture?
With Display.Church (D.C), the answer is 'yes' to everything and more! We offer you a variety of different views for your different church needs.
Nicole To, Creative Director at Arbor Road Church recently spoke with us about her church's journey with Display.Church. For Nicole, it is especially exciting because she has grown up with Arbor Road Church: attended it as a child, went to school and church there, and is now working there.
Before joining Display.Church (D.C), what did your calendar update process look like?
Nicole shared: "Before using this solution, we were adding our events into WordPress manually as calendar events on top of entering them into CCB." Basically, keeping things updated required three manual steps.
Then COVID hit. During this time when their church was needed more than ever and actually saw some growth, no one was keeping track, so things got out-of-date. They tried to change the format of their website but ended up basically breaking the page. 
Arbor Church moved over to a different WordPress solution for their website. But they still needed a good solution for events, sermons, etc.
So, what was the specific goal when choosing Display.Church
?
"When we decided to create a new website, we wanted to look for something that would eliminate one of our manual entry steps," Nicole said. "And we wanted to do it in a way that worked seamlessly with CCB, which is where so much of our data already lives."
Nicole tried out a few options, and chose Display.Church.
Please describe the 'win(s)'. Which specific aspects of Display.Church helped you?
SIGN UP FORMS
Nicole explained: "I LOVE that all I need to do is have our events loaded into our CCB calendar and Display.Church pulls them directly, including any linked forms. I really like that there are multiple ways to format each calendar, and on top of that I really enjoy being able to customize the colors and look/feel to match our branding!"
For Arbor Church, almost every event has a sign up form. The Display.Church sync can pull in form links. When you display them in your event listing, your people can click on the link to automatically reach the form they need.
In general, Nicole also shared that Display.Church saves them time with its 'set it and forget it' data management.
DIFFERENT VIEWS FOR DIFFERENT NEEDS
Nicole and Arbor Church have done an excellent job of showing the versatility of Display.Church. We thank them for allowing us to show you.
Watch the video to see how Nicole highlights featured events, then shows what's happening that week, and follows it up with upcoming events in 4 tabs. (The tabs are a feature of their website builder.) On each tab, Nicole displays a different Display.Church view — all done with D.C. filtering options.
Anything else?
Overall, Nicole told us: "Display.Church is working really well for us. I've been really pleased overall, especially with the quick support you've been able to give us! You guys have been so responsive, so that helps me feel that I can give my feedback. Thank you!"
Support… Things happen. Even the best app has glitches once in a while. The point is, what then? Are you stuck with a product that doesn't work, a calendar, events list, or groups widget view that is out-of-date, and no one to talk to?
Excellent support is a must at D.C. Everyone on our team works together to provide quality help desk articles for day-to-day guidance and a highly responsive chat to solve any issues which come up.
Is your church interested answering 'yes' to all our quiz questions?
Absolutely! Take me to the free, 30-day trial (no credit card info required).